See The Funny Side Of Life And Of School Essay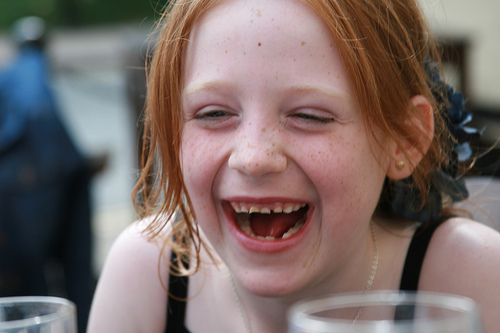 Photo by apdk
Wow, life can get heavy sometimes.
I just looked at the nine recent blog posts that show up at the bottom of my site, and collectively they made me want to crawl into bed and pull the covers over my head. Humans can hibernate for the winter too, can't we? Here's a sample of what I've written about recently: The bullying and suicides of LGBT teens. How politics have mucked up the Christian faith. The number of people in the world who are struggling to make basic ends meet, and how overwhelming and hopeless we can feel when we try to make a difference. So many heavy topics. Ugh.
The universe has a sense of humor
Thankfully, life can be funny, ironic and surprising, too. Like when we want to type "Wow," as in "Wow, life can get heavy" and somehow our fingers seek out the keys "Sos" instead. That's exactly what happened when I sat down to write this post. I typed my first word, looked at the computer screen and it read "Sos." It was as if my fingers were going AWOL, giving up on my oppressive mind and branching out on their own, in search of a rescue, a better life.
Earlier this morning I had another funny experience. I was at the middle school for a Student of the Month recognition breakfast. The room was (I can only assume) filled with the best and the brightest—you know, the kids who have it together—and their parents. Clearly we must have it together too, right? But after the breakfast, a group of us became hopelessly lost trying to find out way out of the school building. How funny is that? Did we hand over all of our competence to our kids at birth, or what? A friend told me it reminded him of a Far Side cartoon—the one with a kid trying to get into the "school for the gifted" by pushing on a door clearly labeled "pull."
And that, of course, is what makes Far Side cartoons and comedians and late night television so funny: The humor is rooted in truth. Yes, some people definitely have a comedic gift, but life freely presents all of the material we need for laughter. We don't even have to go looking for it—the funny stuff has a way of popping up unannounced, when we least expect it. We just have to chose to see it as funny and be ready to laugh.
You usually have a choice: laugh or cringe
When you think about it, nearly every funny incident has the potential to be annoying, embarrassing, or both. Like being part of a group of "dumb parents" wandering around lost in the middle school. Or like this past Friday, when two of our friends made a three-hour trip to our house for our annual chili cook-off—a day early. They were certainly a bit embarrassed and annoyed with themselves, but we ended up having a great evening together, just the four of us, and the situation provided plenty of laughs.
Life is heavy. I hate to think how oppressive it would feel if we weren't free to laugh—especially at ourselves and with those we love most.
I'm still chuckling about the way my youngest daughter and a group of her friends caught me off-guard in church on Sunday. It was after a somewhat somber teaching on God's love being a consuming fire (which actually left me feeling more positive about that concept than I ever have before, but still—a heavy topic). We had just taken communion and were singing in earnest when the kids traipsed back into the sanctuary, fresh out of Sunday school, their sweet, cherubic faces adorned with mustaches, sideburns, beards and wild eyebrows they had fashioned from pipe cleaners. They innocently filed up to the front row, where they like to sit all together, and began singing their hearts out:
Precious Jesus, I am ready, to surrender every care; Take my hand now, lead me closer, Lord I need to meet you there.
Maybe my sense of humor is a bit off-kilter, but I think that's some pretty hilarious stuff. I was more than ready to surrender every care, too. And you know what? I think that's at least part of what it means to set down life's burdens—letting loose, laughing, and simply opening yourself up to the funny side of life.
(Alright, now you have to share the funny things life has served you lately. :)

Similar Posts:
Tagged as: annoying, blogging, choices, church, cringe, funny, heavy, humor, irony, laughter, outlook, parenting, perspective, sad, truth
Everyone in his life experiences some incidents good or bad. There may be the happiest, the saddest or the funniest incident in one's life.
One Sunday morning I received an invitation from a friend of mine Mr. Sudhir, as I had come from the U.K. back to my native land. I got up early in the morning and started preparing myself. My sister gave me a cup of tea early in the morning. Then I took my bath, and got ready. My sister then again asked me to take some snacks and tea but I refused to take as I was very anxious in getting to my friend's house. She kept insisting me to take a heavy breakfast but I did not care for it. I walked out to the Bus Stop. Soon a bus came and I got into it and asked the conductor for a ticket for Babar Lane. The conductor frowned at me saying "This bus is not going to Babar Lane. It s going in the reverse direction, you can get down at the next stop and catch another bus." I was baffled for some time at this sudden bit of information. Then I alighted from the bus and again waited for the next bus for Babar Lane.
I boarded the bus and reached 15, Babar Lane. But when approached my friend's house, the door of his house was all locked up and closed. I was wondering whether I had come to the right place. As I was gazing and pondering, a neighbor of my friend came and asked me, "Why are you standing here? Do you want to meet someone?" I replied. "Yes, I want to see Mr. Sudhir living in Quarter No. 15". He replied "He has moved house on Wednesday and has gone to Changi."
Frustratedly, I came back to the bus stop. I was feeling thirsty and hungry. Soon it started drizzling. I was now in a fix as I had no umbrella. My confusion became worse with the pouring rains. I thought for a while that I had refused my morning breakfast in the hope that I would take it at my friend's house. At this stage my anger was mounting. I was cursing myself as well as my fate, I was soaking wet and instead of going home, I made up my mind to meet Sudhir, come what may.
An idea hit me. I telephoned the Enquiry Office at Changi. The operator told me his address. So I made my journey to Changi. I reached the Address given to me by the operator. I rang the door bell. Tapan, a tiny tot (Sudhir's youngest brother) came out and greeted me with a "Hello, uncle." The moment I entered the drawing room, I saw the parents of Sudhir sitting on the sofa. They offered me a seat and I sat between them. As I was going to ask about the invitation extended to me by Sudhir, Dolly (Sudhir's sister) came with a tray of tea. She was a pretty and vivacious girl. I remembered that I used to love Dolly during college days and had written to her many love letters, proposing marriage. Now Sudhir's mother began to talk very politely. "Look son, the invitation to tea was a joke, as you know today is the First of April" But you are fortunate in the sense that your proposal of marriage has been accepted by all the members of the family." I was thrilled to hear this news from Dolly's mother.
My joy knew no bounds. My spirit felt lifted. Dolly was looking at me silently, her eyes expressing her love for me. We had tea to our heart's content. I rushed home to give the glad news to my parents. This day, indeed, is the most funniest and happiest day in my life.