Pcra Essay Writing Competition 2013
Petroleum Conservation Research Association, Ministry of Petroleum & Natural Gas, Govt. of India, in association with Paryavaranmitra, an initiative of Centre for Environment Education announces OGCF – 2014 National Level Painting Competition for Children from classes 6th to 10th.
Schools can conduct competition on any date of their choice by November 30th, 2013.
Top three winning pictures can be forwarded by 5th December 2013 to:
Centre for Environment Education
Nehru Foundation for Development,
Taltej Tekra, Ahmedabad – 380054
Gujarat
Paintings sent directly students will not be accepted.
Participants have to make hand made drawings on standard art paper with size 18″ x 12″.
Participants can select any one of the topics from the list given below:
1. Save Fuel Yaani Save Money
2. The less you burn, the more you earn
3. Use Petroleum with care

The first three national winners will be awarded with:
1st Prize : Rs. 25000/- + a laptop
2nd Prize: Rs. 25000/-
3rd Prize: Rs.20000/-
For more details visit : http://paryavaranmitra.in/Default.aspx?sID=710
Tagged on: drawing competitions National Painting Competition painting competitions
adminDrawing & Painting, Finished, Kids Contests, National Competitions
351 booths set up in Reasi for pulse polio drive
Katra, January 19
The district administration has set up 351 booths in the district for the first phase of pulse polio drive in 2013, which is targeting administration of polio drops to some 52,000 children. Reasi's Chief Medical Officer said a total of the 351 booths has been set up in the district.
Stranded passengers seek government help
Jammu, January 19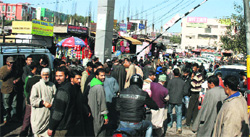 Left to wait for the National Highway to open, passengers stranded at the general bus stand today tried to move towards the Divisional Commissioner's office to lodge their protest against the administration's apathetic attitude.

Passengers stranded at the general bus stand tried to protest against the administration's apathetic attitude on Saturday. Tribune photo: Anand Sharma

Concern over poor attendance in govt schools
Jammu, January 19
To have first-hand experience of working in government schools, Deputy Chief Minister Tara Chand, who is minister for school education, today conducted a series of surprise inspections at different schools in urban and semi-urban areas of Jammu city.
JKHA, Angad Singh's kin reach out to authorities in Hyderabad
Jammu, January 19
After the return of J&K's under-20 women's hockey team from Hyderabad, both the J&K Hockey Association (JKHA) and family members have intensified efforts to contact the police authorities in Hyderabad to know the present status of molestation charges against coach Angad Singh, who is still in police custody.


Angelic delight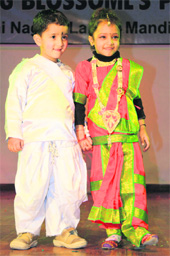 Children take part in a fashion show during the annual day function at Spring Blossom School in Jammu on Saturday. Tribune photo: Anand Sharma
Panun Kashmir observes 'black day'
Jammu, January 19
The Panun Kashmir today observed "black day" to register protest against the alleged forced exodus of the Pandit community from Kashmir in 1990. A large number of protesters wearing black badges and headgears assembled at the Jagti refugee camp in Nagrota.
Getting LPG refill a daunting task for consumers
Jammu, January 19
The Centre's decision to raise the cap on subsidised Liquefied Petroleum Gas (LPG) cylinders from six to nine from April has brought some cheer among the masses but for now, most of the consumers have to shell out Rs 900 to Rs 1,200 to buy their refills.
CITU asks AFCONS to reinstate disengaged workers
Jammu, January 19
The Centre of Indian Trade Unions (CITU) has supported the strike of the Jammu National Highway Workers' Union and has asked the AFCONS company at Panjgrian in Nagrota to reinstate 70 disengaged workers.
Barat returns as highway closed
Batote, January 19
A bridegroom had to return alongwith his bride and his relatives from here due to blockade of the Jammu-Srinagar national highway at Patnitop on Friday evening. Reportedly, the bridegroom, Krishen Singh of Billawar, Jammu, who was on his way home along with his bride and other baratis, after solemnising the wedding with Binny at Malhori, Doda, were made to halt at Assar, Doda, by the police at 10 am and allowed to proceed towards Batote without the baratis travelling in a mini bus only at 4 pm.
KCC beat SCC in T20 cricket tourney
Jammu, January 19
Kailash Cricket Club (KCC) got the better of Samrat Cricket Club (SCC) by two wickets today in the ongoing T20 cricket tournament being played at village Sarore playfield here.
'Preserve state's beauty'
Jammu, January 19
Minister for Higher Education Mohammad Akbar Lone said private colleges in the state would be closed if all they did was mint money. The minister was speaking at a national seminar on 'Environmental Sustainability in J&K: Indicators and Trends' organised by Gandhi Memorial College of Education in collaboration with the Indian Society of Geomatics and the Kashmir University at Raipur Bantalab here today.
2 acquittals in narco smuggling case
Jammu, January 19
Principal Sessions Judge, Kathua, MK Hanjura today acquitted two accused, namely Chain Lal and Kali Dass, from whom charas was seized.


Traffic snarls — A way of life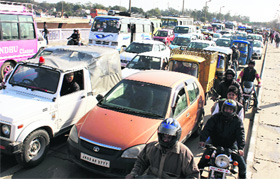 A traffic jam on the Tawi bridge in Jammu on Saturday. Tribune photo: Anand Sharma
Suraj excels in essay writing
Jammu, January 19
Suraj Koul, a class X student of SOS Hermann Gmeiner School, has bagged the second position in the Kashmiri language category in the recently concluded national level essay writing competition organised by the Petroleum Conservation Research Association (PCRA). The participants wrote on the topic 'Oil and Gas Conservation and its relevance in daily life'.
Two mud houses collapse
Rajouri, January 19
Two mud houses collapsed owing to heavy rain in the past few days in village Potha Dhangar in Kalakote area today in district Rajouri.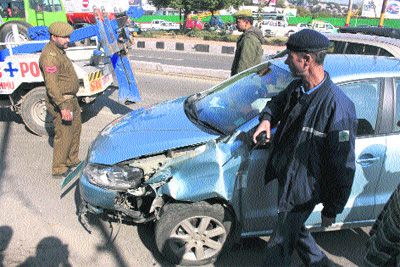 after an accident: A policeman carries out investigations at the spot where a car rammed into a road divider on a flyover in Jammu on Saturday. Tribune photo: Anand Sharma